Personification of the River Nile
Overview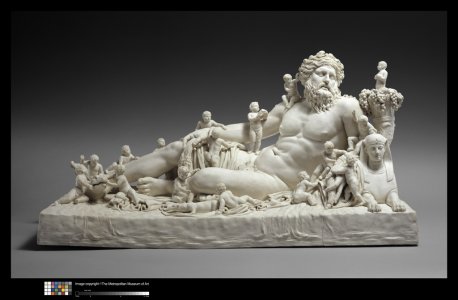 Personification of the River Nile [ edit ]
A masterpiece of biscuit porcelain sculpture, Personification of the River Nile, is an eighteenth century copy of an ancient Roman sculptural group, dating to the second century CE. Possibly based on a Hellenistic and originally and originally part of the sculptural decoration of the Isaeum Campense, where it was paired with a statue of the Tiber. The Roman statue of the Nile shows the reclining personification of the river, surrounded by sixteen children. The playful children represent the number of cubits of an ideal inundation, and the cornucopia behind the Nile's left shoulder further alludes to the bounty of the annual flood. The Nile reclines on an Egyptianizing sphinx wearing a nemes-headdress; along with the crocodile at his feet and mongoose in front of his left knee, these creatures label the sculpture as distinctly Egyptian. Volpato has reproduced all of these features accurately from the ancient template, and the eighteenth century copy differs only in the base, where Volpato has replaced a Nilotic frieze and stylized waves with wet drapery. Overall, this sculpture, like ancient Roman Nilotic scenes, epitomizes the use of specific iconographic elements to convey the natural landscape and cultural achievements of ancient Egypt. The Roman sculpture on which this porcelain is based was on view in Rome since its rediscovery in 1513 beneath the church of Santa Maria sopra Minerva. Egyptianizing Roman sculptures and those with Egyptian themes, such as Personification of the River Nile, were as influential to pre-Napoleonic Egyptian revival productions as authentic artifacts from the pharaonic periods.
Date
1785-1795
Dimensions
30.2 x 58.7 x 29.5 cm
Artist or Author
Giovanni Volpato
Provenance
Italy
Material
Biscuit Porcelain
Museum
Metropolitan Museum of Art
Accession Number
2001.456
Credit Line
Purchase, The Isak and Rose Weinman Foundation Inc. Gift, 2001
---
J.S. Curl, The Egyptian Revival, Ancient Egypt as the Inspiration for Design Motifs in the West, 3rd ed. (London: Routledge, 2005), pp. 35-36.
J.D. Draper, "'The River Nile', a Giovanni Volpato Masterwork," MMJ 37 (2002): 277-282.
A. Roullet, Egyptian and Egyptianizing Monuments of Imperial Rome (Leiden, 1972).