Embalmed - That They May Keep Until 1880 or Longer
Mummy-Mania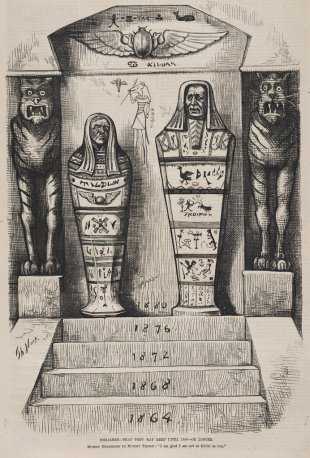 Embalmed - That They May Keep Until 1880 or Longer [ edit ]
The presidential election of 1876 was one of the more controversial votes in American history. Pitting the Republican ticket of Rutherford B. Hayes and William A. Wheeler against Democrats Samuel J. Tilden and Thomas A. Hendricks, the campaign was a mudslinging attack against perceived Republican corruption versus allegations that the Democrats had actively suppressed Southern black and white voter turnout.  Tilden actually outpolled Hayes in the popular vote, garnering 184 electoral votes over Hayes's 165. However, 20 electoral votes in Florida, Louisiana, and South Carolina were not immediately counted owing to various voting illegalities detected in those particular states. These 20 votes were claimed by both parties, and so, on January 29, 1877, a special commission was appointed to decide to whom those electoral votes belonged. The quarrel ended with the Compromise of 1877, which asked for the Democrats to cede the votes to Hayes in return for the removal of Federal troops from the South—an action which would effectively end Reconstruction. This was the first and only election in which a candidate won the majority of the popular vote but failed to be elected president.
The artist of this cartoon, Thomas Nast, was a rabid Republican who detested the Democrats, especially the New York Democrats ruled by Boss Tweed and Tammany Hall.  He had strongly supported Tilden while he was governor of New York because of his actions in suppressing the political machinations of Tammany and Tweed, although he did not approve of Tilden's Democratic presidential bid. He was also a famous political cartoonist whose work was showcased by Harper's Weekly.
Nast chose to show the two candidates here as mummies in cases, in order to suggest that they might be put away and not revived until the next election, or even later. The use of the word "mummy" as a political term had a long history of being associated with political ideas that were dry, antiquated,  and unviable, so it is not surprising to find Nast using the idea to express his views.
The hieroglyphics on both coffins are chiefly gibberish, but one panel on Hendricks' coffin contains a rebus of a drawing of a hen followed by "Dricks." The panel below reads, "of Indiana," with an image of a settler and a bull, which were an allusion to Hendricks' tenure as land commissioner. Tilden's coffin also contains contorted letters, meant to look angular and ancient, that spell "Tilden," while, in the panel below the winged globe, more letters spell "of  NY."  The same panel also includes the depiction of the sails of a windmill, no doubt an allusion to the state's Dutch background.
Hendricks's comment to Tilden most likely refers to Tilden's ill health, which effectively ended his political career in 1876. Hendricks himself would suffer ill health as well, which would not prevent him from seeking other political offices. He was eventually elected Vice President to Grover Cleveland in 1885, but died after only a brief time in office.
Date
July 7, 1877
Dimensions
H. 44.4 cm, W. 20.8 cm
Artist or Author
Thomas Nast
Provenance
America
Museum
Facsimilie
Accession Number
Beinecke Rare Books and Manuscripts Collection Folio S21