Sphinx
Overview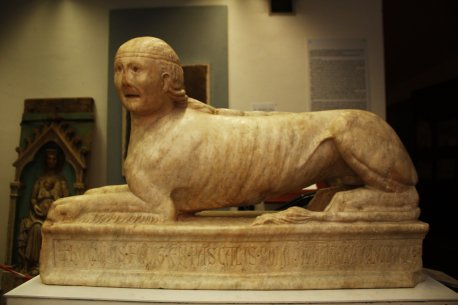 Sphinx [ edit ]
Paschalis Romanus, who signed his name along with the year 1286 on this marble sphinx, belonged to the school of artists now termed the "Cosmati," who sought inspiration in Rome's ancient monuments, a use of antiquity that presages the fifteenth century Italian Renaissance. With its muscular leonine body and inscrutable expression, Romanus' sphinx overlays medieval details onto an ancient Egyptian form. The template that Romanus used for his sphinx, which was originally installed in the city of Viterbo, is unknown, but other thirteenth century sphinxes show the indebtedness of the Cosmati to ancient Egyptian models. The male and female sphinxes in San Giovanni in Laterno wear striped nemes-headdresses that were probably copied from ancient Egyptian sphinxes in Rome.
The Viterbo sphinx wears a fillet tied over his otherwise human hair. The "ponytail" that extends down the back of the sphinx is an interpretation of the tail of the nemes-headdress, while the slight flaring sides of the sphinx's hair represents a naturalization of the lappets of the nemes. The long hair gives the sphinx a feminine appearance, but the prominent testicles leave no doubt as to the creature's gender. Romanus has blended the static and frontal pose of the Egyptian sphinx with a slightly turned head and naturalistic elements, such as the fur on the front legs and tufted tail. The fur depending from the front legs of the Viterbo sphinx also recalls the smooth stone surface that fills the space between the plinth and front legs of Egyptian sphinxes, such as that of Nepherites I (Louvre A26). The plinth of the Viterbo sphinx contains a short Latin inscription that gives the name of the artist and the date of the monument, the location of the text mimicking the placement of hieroglyphic inscriptions on ancient Egyptian sphinxes.
No textual records indicate why the Cosmati would reproduce a sphinx in their sculptural ouvre, and most likely the sculptors were attempting to resurrect an ancient form, without necessarily recognizing the Egyptian nature of the sphinx. Even if the Cosmati used the sphinx as a symbol of antiquity per se, their lively creations provide some of the only (even if unintentional) Egyptomania of the European Middle Ages.
Date
1286
Dimensions
H. 54 cm; W. 84 cm; D. 23 cm
Artist or Author
Pascalis Romanus
Material
Marble
Museum
Viterbo, Museo Civico
Accession Number
117
---
B. Curran, The Egyptian Renaissance, The Afterlife of Ancient Egypt in Early Modern Italy (Chicago, 2007), pp. 45-47.
E. Hutton, The Cosmati, The Roman Marble Workers of the XIIth and XIIIth Centuries (London, 1950), pp. 40-41, 60.
E. Lo Sardo, ed., The She-Wolf and the Sphinx: Rome and Egypt from history to myth (Milan, 2008), p. 139.
K. Noehles, "Die Kunst der Cosmaten und die Idee der Renovatio Romae," in Festschrift Werner Hager (Rcklinghausen: Verlag Aurel Bongers, 1966), pp. 17-37.
A. Roullet, Egyptian and Egyptianizing Monuments of Imperial Rome (Leiden, 1972).p. 8 and pl. 6.
http://www.comune.viterbo.it/museocivico/index.php/storico-artistica/22-sfinge.html