Amulet in the form of a Bull's head
Egyptosophy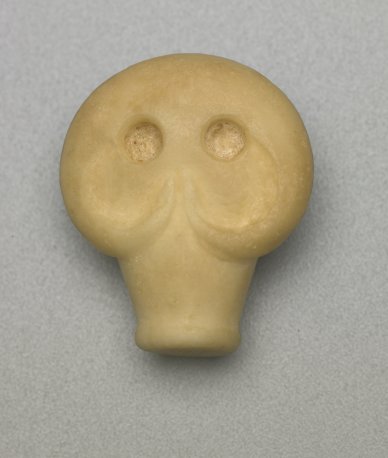 Amulet in the form of a Bull's head [ edit ]
Bull's head amulets are the most common Predynastic type of pendant (Hendrickx 2002: 307-309). The earliest example dates to the early Naqada II period and they continue to be made until the 2nd dynasty. Their general appearance is very characteristic and consists of two parts. The first is a "disc" delineated by downward curved horns, while the second is a "cylinder" which comes out of the back of the disc. Perforations for stringing are always in the back of the "cylinder", showing that the disc is the front part as is confirmed by a few examples found as elements of necklaces.
The highly stylized representations have also been considered to represent ram's or elephant heads but their identification as bull's heads is beyond doubt if only because of the striking similarity with the bucrania modeled over in plaster, surrounding the elite mastaba S3504 at Saqqara, dated to the reign of Djet (Emery 1954: 8-9, p. I, VI-VII).
Bull's head amulets are an aspect of the complex visual symbolism developed during the 4th millennium BC (Hendrickx 2002; Hendrickx & Eyckerman 2012). The stylization of the amulet causes a remarkable resemblance with a particular type of statuette, representing a woman with her arms curved underneath her breasts in a physically impossible manner. Furthermore, the downwards curving arms / horns mirror upwards curving arms and horns seen on many Predynastic figurines and amulets. Stylization allows the combination of originally independent ideas into new concepts. The combination of human and bovine elements culminates in the representation of the goddess Bat. Her emblem is a popular protective element during Predynastic and Dynastic times, and this will also have been the case for the bull's head amulets.
Period
Predynastic
Dimensions
H. 3.4 cm, W. 2.7, D. 1.5 cm
Material
Calcite
Museum
Yale Art Gallery
Accession Number
2007.207.2
Credit Line
Leonard C. Hanna, Jr., B.A. 1913, Fund
---
EMERY, W.B., Great tombs of the first Dynasty II. Egypt Exploration Society 46 - Excavations at Sakkara. London: Egypt Exploration Society.
HENDRICKX, S., "Bovines in Egyptian Predynastic and Early Dynastic iconography". [in:] HASSAN, F.A. (ed.), Droughts, Food and Culture. Ecological Change and Food Security in Africa's Later Prehistory. New York: Kluwer Academic / Plenum Publishers, 2002: 275-318.
HENDRICKX, S. & EYCKERMAN, M., Visual representation and state development in Egypt. Archéo-Nil 22 (2012): 23-72 (in press)