Coffin panel of Djehuty-nakht
Hieroglyphs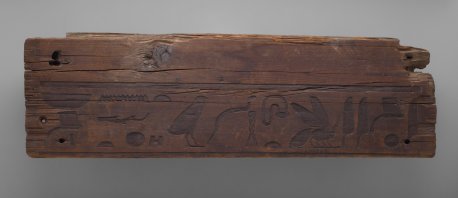 Coffin panel of Djehuty-nakht [ edit ]
This register of ornamental hieroglyphs from the coffin of the Treasurer of the King of Lower Egypt, Djehuty-nakhte, exhibits the high level of craftsmanship available to the elite buried at the cemetery of Deir el-Bersha in Middle Egypt. The cemetery is famous for the burials of Middle Kingdom provincial governors, termed nomarchs, many of whom were named Djehuty-nakhte. Although definitely elite, as his title and his beautifully decorated imported Lebanese cedar coffin testify, this Djehuty-nakhte is not one of these Hare nome governors. Coffin decorations display regional differences and chronological development, and despite the lack of archaeological or prosopographical information, Djehuty-nakhte's coffin can be dated to between the reigns of Sesostris I and Amenemhat II (ca. 1971-1895 BCE) based on the decorative scheme in comparison with other coffins from the same region.
Elite coffins from the First Intermediate Period to the Middle Kingdom (ca. 2125-1650 BCE) are elaborately decorated and incorporate a corpus of funerary spells that aid the deceased's passage into the afterlife known as the Coffin Texts. Some coffins from Deir el-Bersha even have the first illustrated geographical representations of the underworld, known as the Book of Two Ways. While other pieces of Djehuty-nakhte's coffin retain interior and exterior decoration, this section from the coffin foot panel has only one register of hieroglyphs in sunk relief, a standard identifying statement: "The vindicated one, royal sealbearer, Djehutynakht, possessor of vindication." Decorated coffins are just some examples of the interplay between beautifully painted/carved hieroglyphs and images that is ubiquitous in ancient Egypt, with the picturesque writing system being a constant fascination for all foreigners from antiquity till today.
Dimensions
H.30.5cm, W. 96.5cm, D. 8.3
Material
Wood
Museum
Yale Art Gallery
Accession Number
1937.5903g
---
R.E. Freed, L.M. Berman, D.M. Doxey, and N.S. Picardo, The Secrets of Tomb 10A, Egypt 2000 BC, (Boston: 2009)
S. Grallert, and W. Grajetzki, ed., Life and Afterlife in Ancient Egypt During the Middle Kingdom and Second Intermediate Period. London: 2007.
G. Scott, Ancient Egypt at Yale, p.72 (no.37)
H. Willems, ed., The World of the Coffin Texts: Proceedings of the Symposium Held on the Occasion of the 100th Birthday of Adriaan de Buck, Leiden, December 17-19, 1992. Leiden: 1996.
H. Willems, The Coffin of Heqata (Cairo JdE 36418): A Case Study of Egyptian Funerary Culture of the Early Middle Kingdom. Leuven: 1996.
H. Willems, Chests of Life: A Study of the Typology and Conceptual Development of Middle Kingdom Standard Class Coffins, (Leiden: 1988), p. 80, 131-135.