Incantation Bowl
Egyptosophy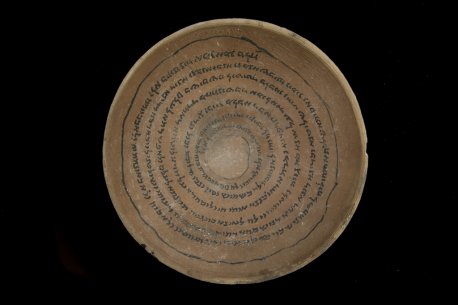 Incantation Bowl [ edit ]
Three Aramaic incantation bowls, also called "magic bowls." Bowls such as these probably stem from the late Sassanid period (sixth to seventh centuries) though both earlier (mid-fourth to fifth centuries) and later (eighth century) dates have been suggested. Most Aramaic incantation bowls come from the area around Nippur, in the heart of ancient Mesopotamia. Physically, they are common wheel-made earthenware bowls characteristic of the Late Antique Near East. The incantations are typically written in black ink spiraling from the inside to the outside, so that the bowl must be turned as it is read. The incantations are written in one of three dialects of Aramaic, a Semitic language closely related to Hebrew: Mandaic, Syriac (in two different scripts), and Jewish Babylonian Aramaic (with various sub-dialects). YBC 15334 is written in Mandaic (edited in Müller-Kessler 2005: 121-122, 236 [Tafel 30]); YBC 2359 and YBC 2393 are written in Jewish Babylonian Aramaic (both edited in Obermann 1940), though the latter has some Mandaic features as well. In general, the incantations are directed against evil spirits, various illnesses, and the curses of demons and humans, and they reflect Jewish, Christian, and Mandaean religious traditions and also preserve remnants of Iranian and Mesopotamian religions. The incantations in many of the bowls, including the three described here, are surrounded by an inner and/or outer circle of ink. These ink circles may be abstractions of the uroboros, the Egyptian serpent eating its own tail, which is commonly depicted on so-called "magic gems" from Egypt. In support of this connection, one can point to depictions of the ouroboros on bowls in other collections, for example, on the inside of a bowl in the Babylonian Section of the University of Pennsylvania Museum (CBS 16087; edited in Montgomery 1913: 54, 185-187, plate xvi) and on the outside of a bowl in the British Museum (BM 91712; edited in Segal 2000: 147-148, plate 134).
Period
5-8th Centuries CE
Dimensions
H. 3.9cm, W. 12.5cm
Material
Terracotta
Museum
Yale Babylonian Collection
Accession Number
2359
---
Julian Obermann, "Two Magic Bowls: New Incantation Texts from Mesopotamia," The American Journal of Semitic Languages and Literatures 57 (1940): 1-31.
James A. Montgomery, Aramaic Incantation Texts from Nippur. University of Pennsylvania. The Museum Publications of the Babylonian Section 3; Philadelphia: University Museum, 1913.
Christa Muller-Kessler, Die Zauberschalentexte in der Hilprecht-Sammlung, Jena, und weitere Nippur-Texte anderer Sammlungen. Wiesbaden: Harrassowitz, 2005. J. B. Segal, Catalogue of the Aramaic and Mandaic Incantation Bowls in the British Museum. London: British Museum Press, 2000.